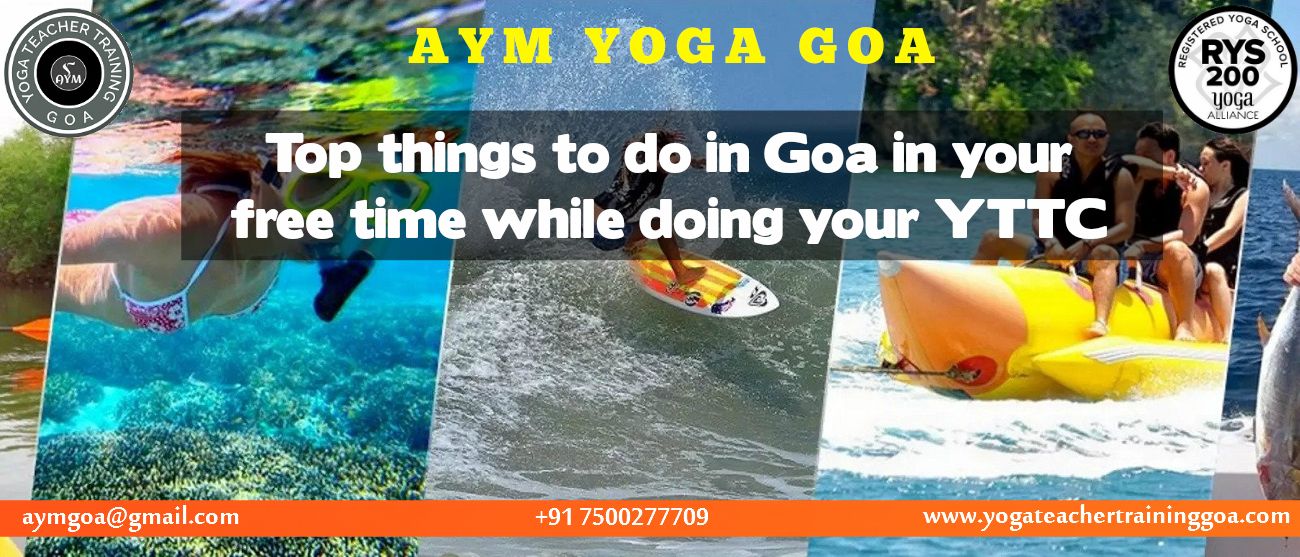 Top things to do in Goa in your free time while doing your YTTC
India's most favorite beach destination, Goa attracts lots of tourist from all over the world. Goa is one of the most beautiful places for yoga practitioners who might want to visit Goa for their YTTC as it serves the purpose of travel and learning very well. Beautiful Goan beaches, delicious seafood let people of all over the world spend their vacation in a romantic destination as well as it helps you to blend with rich Indian heritage in a very safe way.
Here are the top things we have listed for you which you can do in Goa apart from YTTC in your free time:
Beach Strolling:
Make the gorgeous beaches of Arambol your playground. Do yoga in the morning or bask in the sun till noon or go for a stroll. Collect some shells as souvenirs.  Chilling is a kind of mindset in Goa. So Do it when you feel like doing nothing.
Water Sport in Calangute
A hub for a tourist spot, Calangute is a most happening place in North Goa. In your free time, you can try for various watersports like parasailing, dolphin spotting and boat riding and much more.
Trekking
Yes, Goa has quite fantastic wildlife. The Bhagwan Mahavir wildlife sanctuary has animals like a panther, sloth bear and even barking dear. There are 200 species of birds including fairy bluebird, emerald dove and many more. So take your trekking shoes and start the trail to the wildlife sanctuary and butterfly beach.
Visit A Night Market of Goa:
Fondly known as Ingo's Saturday night bazaar.  You can find junk jewelry, imported T-shirt, and hippie merchandise. For Nonshoppers, you can try for lip-smacking cuisine. From Indian Rajasthani Thali to global cuisines from Spain and turkey they serve all.
Visit the museum:
Goa has given the new meaning to a museum. It is the unique blend of Hindu and Portuguese artifacts. There are many museums in Goa worth seeing like the Naval Aviation Museum and Institute of Menezes Braganza.
Visit the Mangueshi Temple:
Dedicated to god Mangesh, a reincarnation of Lord Shiva is one of the largest temples in Goa. This 500 yr temple is home of several artifacts. Not only it is a place of worship but also a most important archeological site.
Stay on Houseboat in Chapora river:
What could be a more relaxing way to enjoy your yoga retreat in a day or two in the houseboat. Watch the fisherman and enjoy the catch of the day right from the water to your dining table. Also, the scenery is spectacular and probably the no better than hustle bustle of beaches.
Now let's talk about Amazing Food
Taste Some Amazing Cuisine :
Though we know that you have come for your Yoga teacher, Training and yogic life are supposed to be simple. Mostly yoga school provide you simple vegetarian food but take some time from your YTTC and try some authentic dishes of Goa in Mum's Kitchen. Their Rawa mussel fry merely is delicious, and the best part they serve vegetarian cuisine also.