100 HOUR YOGA TEACHER TRAINING GOA INDIA
Take a big leap of your Yoga Practice – Intensive Yoga Teacher Training India
100 hour yoga teacher training in Goa
Since the Vedic period sages of India have emphasized on creating a balance between the human body and its metabolism for healthy wellbeing. Yoga is practiced in India by our spiritual gurus and yogi and muni from time immemorial. Now contemporary yoga institutions also provide the same principles of yoga with ancient teaching to yoga enthusiasts while providing yoga teachers training.
AYM yoga is one of the profound yoga schools in Goa for providing 100-hour yoga teachers training curriculum to yoga enthusiasts. This training is designed for students who are not able to complete 200-hour YTTC due to some time constraint. This training is designed in such a way so that they can achieve their training in two modules. AYM yoga school offers you this course as an opportunity to complete your 200-hour YTTC in two parts. This course is crafted under the guidelines of yoga alliance and provides a perfect chance for beginners.
---
Why AYM yoga school for 100 hours in Goa??
---
Goa is a perfect place for people who are looking for a yoga holiday. Many people from all over the world to Goa for its beautiful beaches and to learn yoga. IF you are a beginner and lack a time scale of four weeks to take your 200-hour YTCC yet you are willing to learn; then this 100-hour YTTC is perfect for you. This way, you can pursue your passion for yoga alongside your vacation in Goa. So come to AYM Goa for your 100-hour yoga teacher training and immerse yourself in this joy ride.
Syllabus of 100 hour Yoga Teacher Training in Goa, India 2019 -2020
---
Upcoming Dates and price of 100 hour Yoga Teacher Training in Goa
---
| Date | Price | Availability |
| --- | --- | --- |
| 05th Nov 2019 - 17th Nov 2019 | US $800 | Totla Seats = 20 (Apply Now) |
| 18th Nov 2019 - 30th Nov 2019 | US $800 | Total Seats = 20 (Apply Now) |
| 05th Dec 2019 - 17th Dec 2019 | US $800 | Total Seats = 20 (Apply Now) |
| 18th Dec 2019 - 30th Dec 2019 | US $800 | Total Seats = 20 (Apply Now) |
| 05th Jan 2020 - 17th Jan 2020 | US $800 | Total Seats = 20 (Apply Now) |
| 18th Jan 2020 - 30th Jan 2020 | US $800 | Total Seats = 20 (Apply Now) |
| 05th Feb 2020 - 17th Feb 2020 | US $800 | Total Seats = 20 (Apply Now) |
| 18th Feb 2020 - 1st Mar 2020 | US $800 | Total Seats = 20 (Apply Now) |
| 5th Mar 2020 - 17th Mar 2020 | US $800 | Total Seats = 20 (Apply Now) |
| 18th Mar 2020 - 30th Mar 2020 | US $800 | Total Seats = 20 (Apply Now) |
| 5th Apr 2020 - 17th Apr 2020 | US $800 | Total Seats = 20 (Apply Now) |
| 18th Apr 2020 - 30th Apr 2020 | US $800 | Total Seats = 20 (Apply Now) |
---
Highlights of our 100-hour yoga teachers training
---
The curriculum of 100-hour hour teacher training will be as same as the 200-hour training course. It is a two-week yoga teacher training course, and after the completion of your training, you can opt for another two weeks of your 200-hour training at different time. And, after the end of your both training, you will be eligible for 200-hour YTTC certificate.
We have constructed the 100 hours Ashtanga and Vinyasa flow yoga teacher training in Goa by including the traditional teachings techniques. We have incorporated the yoga teachings of modern and traditional to our curriculum. This 100-hour yoga teacher training is suggested for those students who want to expand their knowledge and self-practice.
AYM Goa Yoga School's mission is to manage self-inspiration, self-discipline, and self-transformation through yoga. We welcome you to Yoga School in Goa to discover the dynamic teachings of classical Ashtanga and Vinyasa flow. You will adequate to detect how your emotions are knotted with external and internal health from a different perspective. We propose the best possible yoga teacher training based on a practical and theoretical approach.
In this course you will learn:
Practice different type of yogas like Hatha and Ashtanga vinyasa and vinyasa flow yoga.
Study of yogic philosophy and its ethics.
You will learn teaching methodology, and you will assist during asana practice so that you can improve your teaching skills.
Study of human physiology and anatomy and its relation to yoga postures; It helps you in learning the scientific aspect of yoga and its practical application.
IF you want to pursue yoga as your career, then this course will help you to bring out your inner passion for teaching.
In your assignments, you will have to write your inner thoughts about what you have learned in your class and discuss with your group.
Accommodation:
Aym yoga school in Goa is one of the best yoga schools in Goa. Situated near the beautiful beaches of Goa, our yoga ashram is well equipped with eco-friendly furniture and natural resources.
Every room in the Ashram has its own attached bathroom with hot and cold water supply. And, for the convenience of our students, we have given them both options of AC and without AC rooms. Ashram staff cleans the entire place once in a week to ensure hygiene in the Ashram and to ensure your comfortable stay in Ashram during your yoga teacher training.
What is included in the 100-hour YTTC Course:
Free wifi
Per day three times vegetarian meals
We provide 24/7 helpdesk to ensure the convenience of our trainees.
Our yoga ashram is well equipped with a library and laundry service.
Also, there is a 24/7 supply of pure drinking water.
Yoga Alliance certificate after completion of your course
What is excluded in the 100-hour YTTC Course:
Cab service and airport pickup
Your toiletries like shampoo, oil, soap, and perfumes
Your traveling fare
Laundry service but there are washing machines available for students use.
Ayurvedic treatments and massages
Any personal expenses
General yoga ethics for 100 hour Yoga teacher training
Your daily teaching of 100-hour course will start from morning 6 am sharp. And, after 10 pm, students are not allowed to keep their lights on also they must keep silence to maintain the decorum of Ashram.
Your attendance is must if you want to get certified.
Trainees should keep their behavior according to the ethics of Ashram, and they need to focus on their classes as there will an exam after each session.
All students are advised to practice the path of Karma yoga
After your deposition of fees, it cannot be refundable.
Smoking, drinking, drugs and Non- vegetarian food is strictly prohibited in Ashram
Students must return the entire book they have taken from our library before their departure from the Ashram.
---
Food and Accommodation for 100 hour Yoga TTC Students
---


AYM Goa Yoga School promotes a healthy aliment, and the food is freshly adapted for you daily. They acknowledge proper nutrition to be an essential part of your time. AYM Goa Yoga School wants to be sure that you are giving your body what it needs to support your daily yoga practice, as well as your wellbeing. They have an on-site organic Indian kitchen with excellent cooks who continue to delight you with their specialties.
The courses include three times meals every day: breakfast (fruits and vegetables), lunch, dinner, and Tea / Coffee throughout the day. All foods will be served as a buffet. The eating area is in the building at AYM Goa Yoga School. The food is strictly vegetarian. If you miss a meal, the chefs will always cook something up for you. There is never a need to be hungry. Your self-discipline is crucial to eating healthily.
Accommodation:
The accommodation at our Yoga School in Goa offers guests a serene, reinvigorating, at home experience. The cottage has attached bathroom, view of the sea from the window. You will also get free access to unlimited Wi-Fi. The bedroom is large and is filled with all that you will need, i.e. (a comfortable single bed, a closet, table, and chair).
---
What students say about 100 hour Yoga Teacher Training Course
---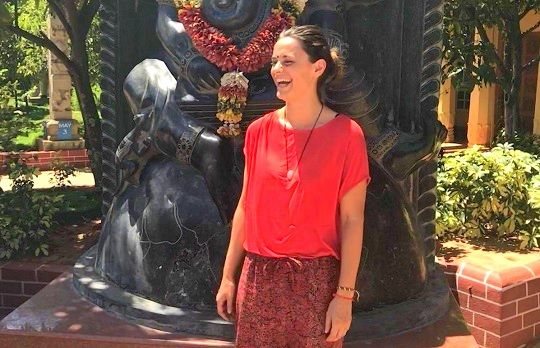 Debby Martin ~ 100 hour Yoga TTC Student
I had a 100 hour Yoga Teacher Training course with AYM Goa Yoga School. The training was the right balance between theoretical and practical practices. I loved a lot our afternoon and morning sessions. Yogi Chetan Mahesh has tremendous intelligence and experience to share. I would recommend their teacher training courses and retreat for anybody. The Yoga School has amazing teachers! Namaste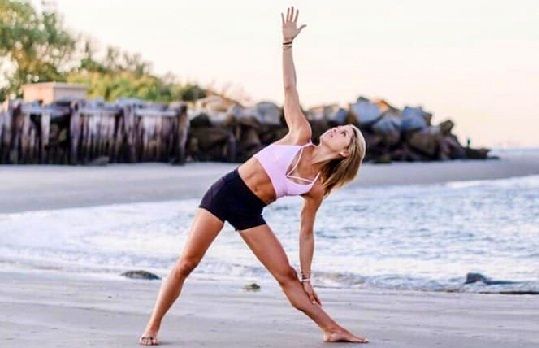 Jessica Lightner ~ March 2019 Student
AYM Yoga School in Goa is a unique place to attend Yoga teacher training. They are knowledgable, compassionate, and radiated with positive energy and prana. They enabled me to build the confidence and the capacity to walk away from the training and walk right into the yoga teaching world. I have never thought back since. I could not have picked a better team to learn and develop with; I would HIGHLY recommend choosing AYM Goa Yoga School!!!