Yoga Teacher Training Goa School Provides | Yoga Courses | Yoga Classes | Yoga TTC |► 200 Hour YTTC ► 300 Hour Yoga TTC ► 500 Hour Yoga Teacher Training Course.
Learn Yoga from Our Expert Yoga Teachers with a 100% Achieving Certification with Perfection for being Yoga Teacher,
Join Now
|| Yoga Teacher Training Goa||
AYM Goa Yoga School offers at the Best Price for Ashtanga, Hatha Yoga, Vinyasa Yoga Flow
Yoga Teacher Training Goa, Get each Yoga Courses
---
When we talked about India's top yoga school, two schools of AYM are counted on first and second position. Running our yoga school since 6 April 2002; we believe in providing qualitative teaching of ancient yoga to our students. Our teachers are highly qualified, and experienced teachers ensure to make your yogic journey delighted.
And there is a lot to Tell About us.
For more please do read all Of our sections, and Let Us provide Our Best Services that.
BEST YOGA TEACHER TRAINING COURSES AND CLASSES GOA INDIA
Do you want to grow a career as a professional yoga trainer?? IF yes then your search stop here.
AYM Goa Yoga School is one of the best yoga school in India when it comes to providing yoga teachers training Goa. We are one of the most profound yoga school when it comes to yoga teachers training Goa. We understand the dream of you to become a full-fledged yoga trainer, and we are here to help you with this. Our courses will give you an adamant time to practice your teaching skill through your involvement in the class firstly to an individualistic training then to a full group.
Get Best Yoga Teacher Training Course Goa India Yoga classes from Best Yoga Experts.
We understand dreams of individuals in starting their Yoga ventures, thus accordingly offer professional Yoga training courses. Our experienced Yoga trainers have prior knowledge of Yoga training and practices. They deliver the best yoga instructor training to the aspiring individuals so that they can effectively learn all the moves and facts about Yoga.
Our teacher provides you the in-depth teaching of every yoga asana, its correct alignment, and its philosophy.  At AYM yoga school, we believe in giving the traditional science after every yoga pose, different yogic practices, and other breathing and meditation practices.  Apart from yoga training, you can enjoy our spiritual retreat in Goa. In the sound of roaring waves hitting the beaches, you can let yourself lose and practice and meditate for hours.
At our Yoga ashram In Goa, we assure you the in-depth knowledge about different yoga practices and meditation sessions. Apart from Yoga training, you can also enjoy our Spiritual Yoga retreat therapies in Goa and came to know the real Power and Hidden Benefits of Yoga. 
Here we can find a mixed culture of Indian and a Portuguese, and this Mixture of two far culture has sprinkled some Magic and sweetened with sun, sea, sand, and a lot of Portuguese, Indian seafood, a magic of Goa will never let you quite adoring it.
The Goa is a very small land on a west coast of India, it is a 25th state of union states of India, it liberated it from Portuguese rule in 1961.In Goa you will discover a large amount beaches, it is a hottest Tourist spot for Foreigners, this is not all Goa is! it is Well known for Yoga, Every Year Yoga students come to Goa to be aProfessional Yoga Teachers, Here comes Yoga Teacher Training Goa Use full.

We have Well Experienced Yoga Training Teachers at Our Yoga School, they had Trained Thousands of students as Yoga Teachers till Now, come And join this family Of Yoga Teacher Training Goa.
The Yoga Teacher Training Courses In Goa – [ AYM History ]
History of AYM: Yoga is a traditional science of wellness that works on connecting our body, mind, and soul. Following that same philosophy, AYM is established in 2005, by Yogi Chetan Mahesh. Then he created a platform to bring best of yoga teachers under a roof and initiated a fully curated yoga school that teaches the ancient essence of yoga that includes its philosophy, anatomy, and physiology to everyone and enlightens their life with this elixir of life.
---
Yogi Chetan Mahesh along with other yoga gurus founded the "Association of yoga and meditation" registered by the government of India to provide best yoga teacher training courses to all the aspirant yogis.  As the practices outlined, have given Yogi Chetan Mahesh so much enjoyment, strength, clarity, and joy he's committed to sharing them with others.  His Favourite Quote: "Talent is a pursued interest. Anything that you're willing to practice, you can do." Bob Ross Interesting Fact: Yogi Chetan Mahesh has visited 41 countries!
AYM understand that yoga has been developed according to the time being, and according to meet the requirement of current generation requirement, we have created a syllabus that fits everyone need. Our Yog gurus have meticulously designed this syllabus without losing the true essence of this ancient science which can be learned by anyone irrespective of their of ethnicity, lifestyle and other factors.
Our syllabus is crafted with the scientific approach that in the first year of its launch AYM academy has received a tag of National Organization of India.
And AYM is an esteemed member of international yoga federation (IAF) and strictly adhered to the guideline set by IYF across all the Yoga centers across the country. Since its beginning, AYM has strived to give the best teaching of yoga to their students who are enrolled in our Ashram yoga TTC.
Also, our thousands of Alumni are scattered successfully in various yoga schools across the globe and enlighting the lives of multiple people with their yogic teaching.
Also, the student gets the chance to get the taste of the rich cultural heritage of India during their yoga training.
After graduating from AYM, our students can register themselves as a certified yoga teacher with IYF along with yoga alliance USA on the global spectrum.
National Yoga Association located in many countries held different types of sport at the national level for yoga students to show their skills as a yogi and to understand their capacity and their shortcoming while performing. The winner of this competition gets the chance to represent AYM on the global spectrum events described by IYF.
AYM always encourage their graduate students to take part in this competition so that they can discover their strength and their weaklings and work on them.
IN 2006 AYM has passed the resolution to create a supervisory body to strictly adhere to the standard established by international yogic standard and Indian yoga alliance. This group was created to monitor every change in the yoga standard so that it can maintain its true essence and originality. https://yogateachertraininggoa.com
Benefits of Being a Yoga teacher:
Being a yoga teacher is not a piece of cake; it takes the passion and the zeal to garner the traditional essence of yoga at your yoga teacher training(GOA). We have listed some important points below.
Yoga has become kind of a trend these days. It is not a religion, but it is a way of living your life more healthily. People thought that it is a form of exercise, but it is far more ahead than that. Yoga, along with its physical attributes, also increase your spiritual or astral energy.
Many lives have been changed for better after including yoga in their daily routine; this makes yoga accessible in every nooks and corner.
Yoga is an artwork,
It is a traditional piece of art which has deeper meaning inside that means the higher you explore this higher you get its benefit from it.
When we look around, we saw yoga is imbibed in our life in every little possible way whether it is in the form of asana or meditation
Yoga teacher training is the newest trend that is catching the light. The yoga teacher training at AYM goa is a path of becoming a professional yoga teacher via completing the 200 and 300-hour yoga training course.
You can find numerous blogs about yoga teacher training in India and the countless reason to do it. All are pretty fascinating
Everyday teaching at AYM Goa yoga school
In yoga school people learn that yoga is not a physical form of exercise or workout; It is far more than that it is a more in-depth spiritual adventure which will transform you as a whole person inside out.
Its all about exploring your inner self and maintain and help you attain perfect harmony between your body and mind via incorporating healthy habits to your life.
Also, it will make you understand its scientific aspects and will let you introspect about your journey as a professional yoga teacher. And, help you find the answer to this question of whether you are geared up for your yoga teacher training or not??
Yoga at Dharamshala
When you join our yoga teacher training course in Dharamshala, you will be able to find out what it looks like to be a yoga professional and how much dedication it takes to be a yoga trainer.
You will be able to learn more and more about it while teaching your student, and it will help you to validate your understanding of yoga as well. And, whether it is private or group teaching, you will learn everything while your YTTC.
Yoga changes your perspective towards life, whether it is professional or personal. You will feel gratitude for everything in your life and look forward to it. But it is not the case well then you need some time for deep introspection.
Yoga heals your soul
Your yoga teacher training helps you to know about your shortcoming and will let learn new ways to promote its teachings and its value and some innovative ways to deepen your practice.
You will learn to become aware of your energy and spiritual chakras and how to control them.
Everyone has their limitation, and you will be able to stretch your boundaries and become more creative and knowledgeable.
As your classes progress, you will begin to witness yours as well as others path of spiritual and physical wellbeing and there no such better feeling than this.
In your yoga class, you will witness the amazing benefits of yoga in your spiritual, physical, and emotional upliftment. You will evolve from a practitioner to a full-fledged yoga trainer; basically, you will experience your journey from being a caterpillar to a full-grown butterfly.
Teachers at AYM Yoga school  in Goa:
We have the highly experienced yoga teachers, which will help you to grow your career as a professional yoga instructor and help you that strong niche that you will need as a yoga teacher.
200-hour YTTC in Dharamshala:
IF you are looking for learning yoga and making a career out of it then our yoga TTC in the Dharamshala provide you the best setting to unwind your true inner self in the picturesque setting of Himalaya.
Author: Yogi Chetan Mahesh
YOGA TEACHER TRAINING IN GOA
Among many Yoga TTC Schools In Goa, AYM is one of a leading yoga teacher training school in Goa. We also have Yoga training centers in different cities of India, like world yoga capital Rishikesh and Dharamshala. It' has been over a decade; we are offering a best Yoga Teachers Training Goa and Retreat programs in India. Apart from India, we have got our presence in other countries like Bali and Nepal. We are an AYM training institute and provides the best yoga retreats in Goa India. If you wanted to learn the best Yoga training in Goa, then we highly recommend you to avail our yoga TTC in Goa.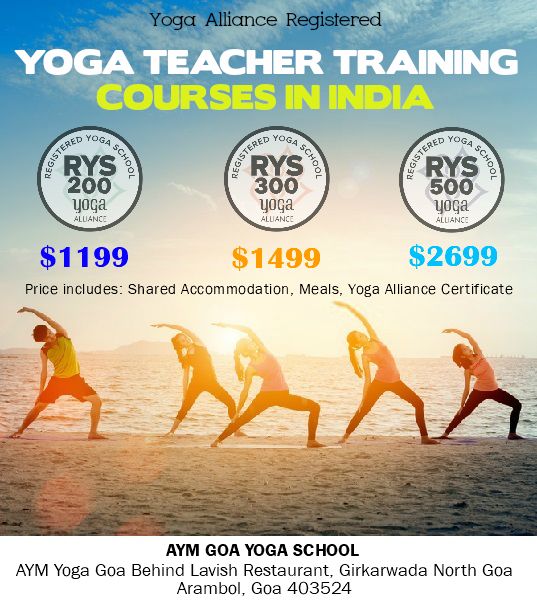 COURSES YOU MIGHT INTERESTED IN
We have many choices of Yoga TTC in Goa to choose from.
Ashtanga Yoga Teacher Training Goa
Experience an unforgettable and life-changing journey of your personal and professional development. The 200 hours Ashtanga yoga teacher training course in Goa, India, has been a massive success for students worldwide. The program consists of authentic teaching techniques and extensive knowledge of yoga. Whether you are aspiring to become a certified yoga teacher or searching to deepen your understanding and practice, this course is for you.
Join the eight limbs of yoga with these intensive 25 days of exercise and Training in Goa. Appreciate your days in traditional yoga shala not far from the Arambol Beach in North Goa. Ashtanga YTTC is an opportunity to dip deep into your practice and knowledge of the depth of ashtanga at its origins.
Vinyasa Flow Teacher Training in Goa
We offer traditional 200 & 500 hours Vinyasa Flow Yoga teacher training in Goa, India (designated with Yoga Alliance). Study about the science of sequencing, increase your knowledge of body-awareness and move nearer to the understanding of your authentic self. The strategy focuses on Yoga in smaller groups for maximum advantages of students and teachers as well as a coalition of both tradition and new sequences paired with the influence of Mantra chanting and the use of props to preserve your body.
The yogic diet of sattvic meals throughout the course helps your system to be smoothly refined and strengthened throughout the course. AYM Goa Yoga School trains professionals and spiritual instructors with full of passion and commitment to building a secure and inspiring space for your transformation. A team of devoted expert teachers is awaiting you.

YOGA ALLIANCE

ACCREDITED

YOGA COURSES IN GOA,

INDIA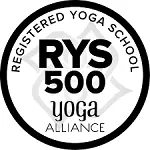 Many peoples choose yoga Teacher Training courses as a method to not only improve their mental and physical health but also to look into their inner self and discovers ideas to convert to a healthier person. However, a lot of people opting to join Yoga courses in India are ignorant of what they can expect at the Yoga School. Most importantly, they are also unaware of the ultimate purpose of their training, i.e., whether they would be using their knowledge to instruct other people or whether they would be working on it for their benefit only.
However, AYM Goa Yoga School provides the best and authentic Yoga courses in Goa. You can check our registration on Yoga Alliance "Here". The courses we provide are:
A 200-hour YTTC course is an exciting and transformational effort. On completion of a 200 hours course, students should have a thorough knowledge of asana (yoga poses) (including correct alignment and adjustments), Pranayama (breathing), Kriya (cleansing), Mantra Chants, and various meditation techniques. Click here to learn more about the course.
A 300 hrs course usually enables a student to start to delve into the more detailed and thoughtful features of this Yoga practice. Whereas a 200 hrs course is focused more on the poses that a student will likely be exercising more than anything else, a more extensive form of training can start to get into the actual substance of this exercise, its subjective and detailed methods and ideas. Click here to know more about 300 hours course.
A student who registers at a professional 500 hrs Yoga TTC course will get a long-lasting level of commitment. This dedication to the internal and external transmutation is due to the cleansing results of Yoga. The student must also apply himself/herself to the accurate study of physiology, anatomy, the intricacies of asana arrangements, Yogic healing, the power of bandhas, mudras, mantras, chakras, advanced pranayama, and meditation methods. Click here to know more about this course.
OUR EXPERIENCED TEACHERS
We have gathered a professional and highly experienced team of Yoga Teachers
WIN A

FREE

YOGA TEACHER TRAINING

IN GOA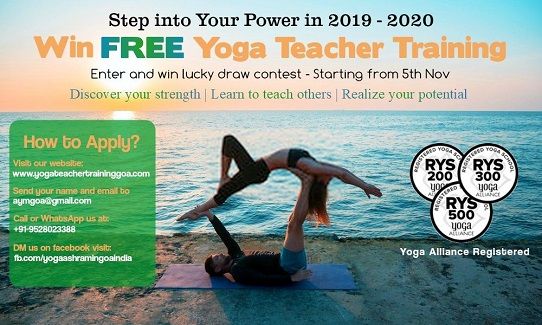 *Winner will be selected by lucky draw only
Enter in our Lucky draw contest and win a chance to participate in 200 / 300 / 500 hours Yoga Teacher Training absolutely free. A certificate will be issued on completion of the free yoga teacher training course, and you will able to register yourself at Yoga Alliance.
How to apply: Visit our Webpage and fill out participation form or send your name and email at aymgoa@gmail.com.
How to Register with Yoga Alliance After You Graduate from Your Yoga Teacher Training in Goa
Yoga Alliance is a global organization that controls Yoga schools and yoga teacher affiliations. It is necessary to know that they have an internationally acknowledged accreditation system, but every teacher does not register to the Yoga Alliance. Some nations are now coming up with their accreditation systems, and also some yoga associations do not accept Yoga Alliance's policy. However, particularly Yoga Alliance registration might make things way more convenient.
To be ready to register with Yoga Alliance as an instructor, first, you have to do a Yoga Teacher Training with a certified yoga school. You can only join with Yoga Alliance after completing the YTT. And the listing process is very straightforward.
Syllabus of yoga teacher training program at AYM
AYM includes basic curriculum required by Yoga Alliance USA, and the topics of the syllabus are:
Training, Techniques, and Practice of yoga.
The methodology of Yoga Teaching.
Human Anatomy and Physiology.
Ethics and Philosophy of Yoga.
Yoga teaching Practice.
The Foundation of AYM in India was laid down by Yogi Chetan Mahesh Ji in 2005. And since then, AYM has been offering a best class Yoga training. AYM yoga school in India has given more than 10000 certified yoga teachers in the last ten years. It is the main reason why the trainees from around the world much appreciate the yoga teachers training at AYM.
You can check here the reviews of our students who have completed their Yoga training at AYM. The Facebook reviews will surely improve your confidence in availing best yoga teacher training course in India at AYM. Our pass out students have developed their own Yoga ventures in a different part of the world. You can check their videos and their reviews regarding AYM yoga school here. Have a look on:
AYM Goa Yoga School YouTube Reviews | AYM Goa Yoga School Google Reviews
Charlotte Sumian (200 hour Yoga TTC Student)
I completed the 200 Hour Yoga TTC at AYM in Goa, India in April 2016. The school is beautifully located Near the Arambol Beach, just far away enough to have some peace and quiet from the busier streets. The teachers were all humble, good-natured and knowledgeable. The facilities in perfect condition, clean, hot water and the yoga class with windows so I can see the mountains at the same time you practice. Thank you AYM!
Upcoming Dates and Price
Price and Dates of Upcoming Yoga Teacher Training course in Goa | Enjoy huge discount upto %30 off
100 hour Yoga TTC
Price: $699 Price: $599
('Upgrade to Private room by paying $100 more")
('$50 off if you book atleast 1 month before")
5th Nov to 17th Nov 2019
18th Nov to 30th Nov 2019
5th Dec to 17th Dec 2019
18th Dec to 30th Dec 2019
5th Jan to 17th Jan 2020
200 hour Yoga TTC
Price: $1399
Price: $1199
("Upgrade to Private room by paying $100 more")
("$100 off if you book atleast 1 month before")
5th Nov to 30th Nov 2019
5th Dec to 30th Dec 2019
5th Jan to 30th Jan 2020
5th Feb to 1st Mar 2020
5th Mar to 30th Mar 2020
300 hour Yoga TTC
Price: $1799 Price: $1499
("Upgrade to Private room by paying $100 more")
("$100 off if you book at least 1 month before")
2nd Dec to 30th Dec 2019

3rd Jan to 31st Jan 2020
2nd Feb to 2nd Mar 2020
3rd Mar to 31st Mar 2020
2nd Apr to 30th Apr 2020
Apply Online
---
Click on Apply Now Online link, and you will be redirected to the page where you will enter necessary details about yourself.
Fill the Form
---
Fill the necessary information (Your full name, course date, course you are applying for and your Address etc.)
Confirmation
---
We will review your application form within 24 hours and send confirmation to your email.
Advance-Deposit
---
After confirmation, you need to deposit an advance amount. After deposit, your place will be confirmed