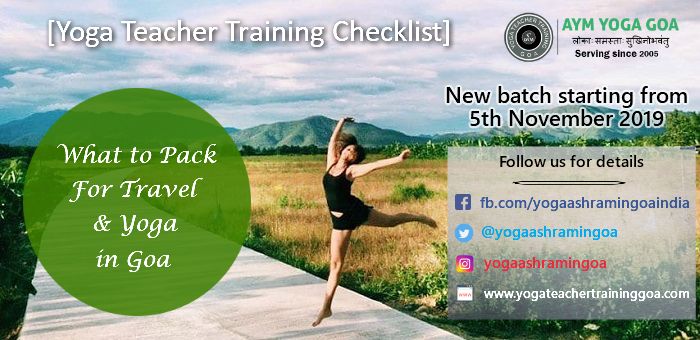 What to Pack for Travel and Yoga in Goa
What to Pack for Travel and Yoga in Goa:- Fantastic seafood, nightlife, beaches, and beach parties Goa is famous for wildlife.  Every year thousands of tourist flocks from world to visit this serene beauty. Even though people come to Goa for fun at beaches but also love to practice Yoga on beaches. With pleasure, people also start taking an interest in Yoga, and Goa is an apt place for it. That why  Many yoga Schools have begun to Yoga Teacher Training In Goa to serve the purpose.
What to Pack for Travel and Yoga in Goa
So you have decided to travel to Goa for your Yoga Teacher Training. And you know that your Yoga teacher training won't require you that many heavy loads of shoes, camping gear and all. If you are coming to Goa for your YTTC, then you are good with light and comfy clothes.
Still, We have listed some essentials that you might want for your YTTC in Goa:
Yoga Mat and Yoga Towel: Though many schools provide you yoga mats but not always those are of excellent quality. So if you don't prefer using old and rugged yoga mats and also you are traveling for a long time for your training then you should buy your yoga mat.
Breathable yoga Wear:
Since India is humid and you will sweat like anything in your Yoga session, so it is essential to bring appropriate and breathable Yoga Wear.  Which is comfortable and breathable at the same Time.
Read also: Top things to do in Goa in your free time while doing your YTTC
A Travel Journal
You have come for YTTC, so you have to write a lot of notes regarding your yoga sessions, and also you want to jot down some personal travel experience while you are in Goa. So bring at least one journal to write down the important thing.
A Sarong :
For people who don't know what  Sarong is a large thin piece of cloth which can be used to wrap around your waist. Bring one as when you are practicing Yoga in Goa. You can use it as cover while doing Shavasna, and you can also use it as a mat to sit in the sand and for many other religious ceremonies.
Your Healthy Snacks :
Though your Yoga school provides you meals in your course duration but keeping some healthy snacks help you to relieve those in-between hunger pangs.
Some Local Currency:
Though for some, it might not sound that important as in India, generally all banks have cash exchange, but still, it comes handy while traveling to the local market or strolling on the beach.
Face Wipes: Goa is very humid, and also when you are doing Yoga, it comes handy to remove any sweat and dirt from your skin.
Own Water Bottles and some Additional Supplements:
 Always bring your water bottles so that you don't have to ask for bottled water every Time you are thirsty. You can refill them in your yoga school for your purposes. It is always essential to have some Iron and magnesium sulfate or some probiotics as you might get stomach issues after consuming spicy food of Goa.
And last but not the least Camera:
Goa is full of serene beauty, beaches Portuguese architecture, and color entire vibrant atmosphere. Having a camera lets you keep those beautiful memories captured for the longest Time.