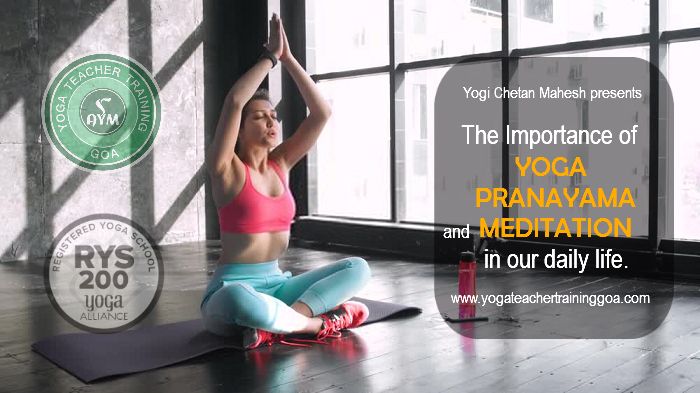 Yoga is an art of wellness that was born and blossomed in India thousands of years ago. It is an art that helps many people to attain better health and awareness and lead them to holistic wellbeing. It has incredible benefits both for our physical and mental health. When Yoga, Pranayama, and meditation practiced together, it creates a connection between mind and body and improves overall health. Several forms of yoga merge Pranayama and meditation, in which there is controlled breathing while you are performing yoga.
When we talk about Pranayama is translated as an extension of your prana force. It implies the set of breathing techniques in which your breath is altered intentionally to produce specific results. While meditation is unwinding of thoughts, it is not about to concentrate thoughts on one thing. It is about becoming thoughtless. Practicing yoga, Pranayama, and meditation has significant health benefits. With so many studies, people have started recognizing the importance of Yoga, Pranayama, and Meditation in their life.
Here are some proven health benefits of practicing yoga, Pranayama, and meditation daily:
Effective management of stress and anxiety:
When you practice yoga while breathing mindfully, it helps you to reduce stress and anxiety in our body. When we practice yoga and Pranayama, then some stress-related condition like high blood pressure and other cardiovascular diseases reduces. As it cuts, the inflammatory response on stressor reduces. Practicing meditation also calms your nerves hence a useful component to reduce stress.
It helps in reducing your weight and increases your overall fitness:
Yoga forms like Ashtanga yoga in which your body moves through the series of yoga pose with synchronization of breath is an intense yoga and very well equipped in burning your calories too. Most of the office workers have to sit in front of their desktop all day long. It leads to the reduction of muscle mass, makes your muscles tight, and decreases your overall fitness. Most of the yoga poses focus on stretching muscles that increase the elasticity of muscles, and joints help them in the long run. Meditation calms the mind and keeps sane from the stress that came with the process of weight loss.
Aid in your mental wellbeing:
Practicing Yoga, Meditation, and Pranayam improves the concentration of mind and support in emotional wellbeing. A study shows that people who practice yoga are happy and more positive instead of people performing other exercises. Meditation improves the mental state by providing deep relaxation, and it can be practiced anywhere: home, work-desk.
Fight diabetes and other cardiovascular diseases:
Regular practice of yoga/meditation can help in decreasing sugar level, lowering hypertension, and keep a check-in on weight. Daily practice of yoga and Pranayama reduces the symptom of any heart-disease. Yoga slows down the symptoms of diabetes and reduces the severity of the complications. Stress is one of the most important reasons for lifestyle disease. Regular practice of yoga and breathing exercises with meditation effectively minimizes the tension from the mind and body.
Lead you to better dietary choices and improves your overall health:
When we practice yoga along with meditation, it leads to mindfulness hence better-eating habits. People who perform yoga tend to choose healthy diet options over junk food. This increases their wishes to take off their bodies and increase their confidence.
We know that modern life is stressful where we have to deal with less sleep, stress, and other anxiety disorders. Yoga improves mind-body coordination and improves consciousness while Pranayama improves breath and mind control. Regular practice of meditation improves mental health by reducing stress and anxiety. Daily practice of yoga asana with pranayama and meditation help individual to become health conscious and help them in living a holistic life.