300 HOUR YOGA TEACHER TRAINING IN GOA INDIA
Get The best 300 hour Yoga Teacher Training in Goa India, We Have satisfied Our Yoga Students through World like USA, Thailand. 2018 Best Award Achievers and much more yet to come…
---
300 hour Yoga Teacher Training in Goa India
---
300 hour YTTC Goa
Welcome to AYM Training Center in Goa
If You Dream to be a certified yoga instructor, then you need to avail Yoga teacher training from best and efficient Yoga trainers. At AYM Goa, we have got experienced yoga trainers, who have prior knowledge of different yoga styles and practices.
Since 2005, AYM has been offering YTTC& 300-hour yoga teacher training in Goa India to students, and since then we have trained more than 10,000 students in our yoga school.
---
What makes Goa unique for yoga training?
---
Since ages, our ancestors have been practicing yoga styles in the natural environment. According to experts, Yoga practices are much more effective when you practice them in Nature. After introducing Yoga school at Rishikesh and Dharamsala, now we have opened AYM yoga school in Goa.
As you know, Goa is one of the best places in India to witness the Natural beauty, so performing Yoga here can be very beneficial. Our ashram is very near to the secluded beaches. Thus you can seamlessly explore the inner you, without any disturbances. The students, who have availed Yoga teacher training Course in Goa, much appreciate the yoga training and peaceful environment of Goa.
---
300-hour Yoga Teacher Training in Goa
---
The 300-hour Yoga TTC is highly recommended for individuals who dream of starting their yoga ventures. In this Yoga training course, you will learn about different Yoga asanas like Ashtanga yoga, Hatha yoga, Vinyasa yoga, and pranayama.
Our trainers will also provide you necessary training on Body cleansing, Anatomy, and Yoga philosophy. There is no doubt that you will gain the best knowledge and experience of Yoga training. You can also enjoy the Yoga retreat in Goa programs to rejoice your soul and to release all the negative energies from your body.
---
Syllabus of 300 hour Yoga Teacher Training Course
---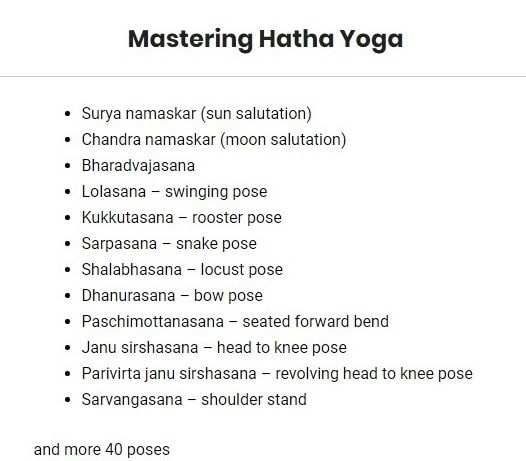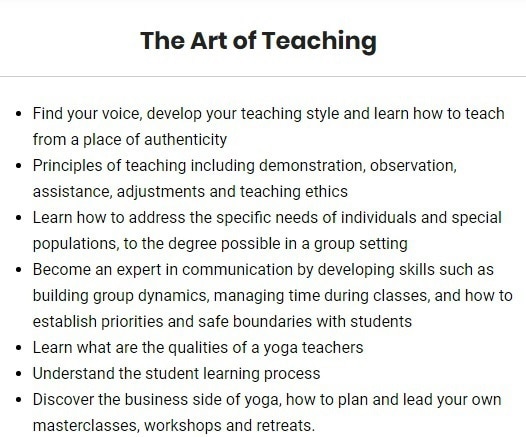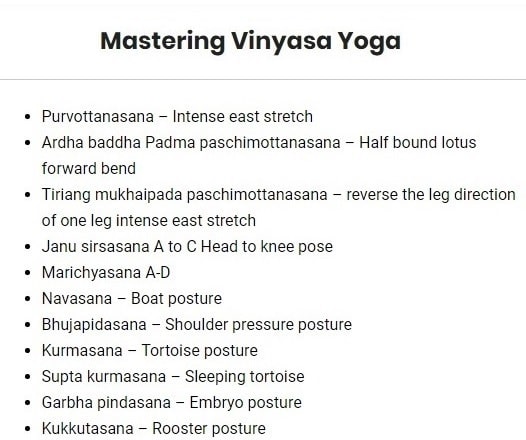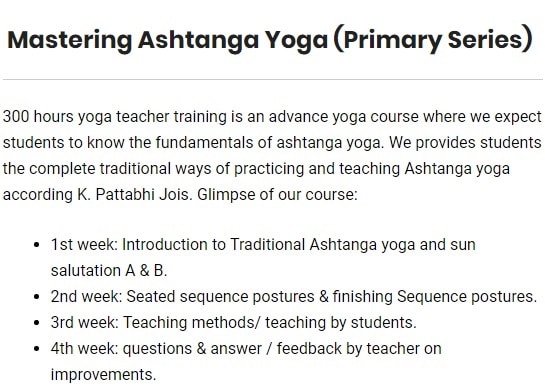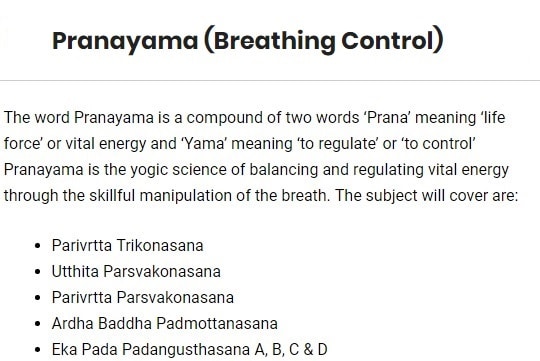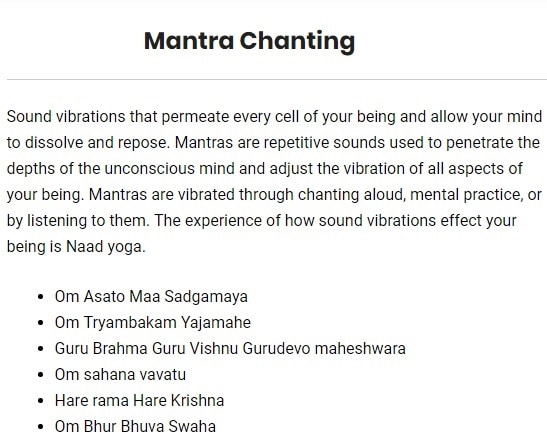 ---
300 hour Yoga Teacher Training in Goa Program
---
From elemental theories to the proficient application, become a certified yoga teacher with this course by AYM Goa Yoga School. But that is not all, and you will also obtain the essential knowledge about the Anatomy and Vinyasa healings
In this way, your learning, and involvement in yoga are profound, fundamental, and complete, with which you become one of the best yoga students on the earth, being included in the Yoga Alliance.
With AYM Goa Yoga School, your vision of yoga is going to change since you will build up a much deeper path. Enrich and give increasingly significant and confident importance to your asana and Vinyasa practice so that they are not only a physical exercise but that they become a real yoga practice that will contribute to your health, spiritual clarity, vitality, harmony, and self-acknowledgment.
What's Different About It?
Authentic teachers with a modern approach:
The instructors are an exceptional combination; they grew up in yoga ashrams in India and also spoke excellent English. They are stunning and in their capacity to make the ancient lessons available to anyone. Passing on the subtle layers of yoga is a sensitive artist, and they take every care to prepare themselves to do so tirelessly.
We prioritize enjoyment, seriously:
The objective of yoga is to enjoy life. This is a part of our center way of philosophy, not merely advertising language. While they are genuine in their training, they never take it too seriously. Consistently in their training is loaded with life, and the instructors are genuinely amusing.
Not too religious, not too commercialized:
Most yoga schools nowadays are only manufacturing plants that spit out generic instructors. When we started planning this training, each program we investigated was either excessively religious or excessively marketed.
Their training takes only the moral parts of both. It is profoundly established in the legitimate customs of yoga, however, focused entirely on individual strengthening rather than adherence to religious dogma. We have a profound pledge to helping peoples and offer to convey altogether higher quality in each part of the course, accommodation, food, teaching, and service.
---
Schedule of 300-hour YTTC Goa India:
---
Upto $300 discount on 300 hour Yoga Teacher Training course
| Date | Price | Availability |
| --- | --- | --- |
| 2nd Dec 2019 - 30th Dec 2019 | US $1899 USD $1599 | 5 Seats Available Apply Now |
| 3rd Jan 2020 - 31st Jan 2020 | US $1899 USD $1599 | 5 Seats Available Apply Now |
| 2nd Feb 2020 - 2nd Mar 2020 | US $1899 USD $1599 | 5 Seats Available Apply Now |
| 3rd Mar 2020 - 31st Mar 2020 | US $1899 USD $1599 | 5 Seats Available Apply Now |
| 2nd Apr 2020 - 30th Apr 2020 | US $1899 USD $1599 | 5 Seats Available Apply Now |
---
Highlights of 300-hour YTT Goa India
---
Yoga asanas.

Meditation.

Basic knowledge of Ayurveda.

Both practical and theory classes.

I have experienced yoga trainers.

Comfortable accommodation and food facilities.
---
Daily Schedule for 300 hr.  yoga course Goa
---
| Time | Daily Routine |
| --- | --- |
| 05:00 am - 06:00 am | Mantra Meditation |
| 06:00 am - 07:00 am | Sat Karma |
| 07:00 am - 08:30 am | Ashtanga Asana |
| 08:30 am - 09:30 am | Tea and Breakfast |
| 09:30 am - 10:30 am | Physiology & Anatomy |
| 10:30 am - 11:30 am | Pranayama Mudra |
| 11:30 am - 12:30 pm | Teaching Practice |
| 12:30 pm - 01:30 pm | Lunch |
| 01:30 pm - 03:00 pm | Sewa |
| 03:00 pm - 04:00 pm | Philosophy |
| 04:00 pm - 05:30 pm | Hatha Yoga |
| 05:30 pm - 06:30 pm | Mantra Yoga |
| 06:30 pm - 07:30 pm | Dinner |
| 07:30 pm - 08:30 pm | Kirtan |
Accommodation
You can enjoy the breathtaking views of those naked beaches from our Yoga ashram in Yoga. All the rooms are maintained with eco-friendly furniture and simple decoration. Every room has got its private bathroom with both cold and hot water facility. Some other amenities which are offered at AYM Yoga school include blankets, bed sheets, pillows, and cleaned mattresses. You can either choose AC or Non AC room as per your convenience. The rooms are cleaned once in a week, by the ashram staffs.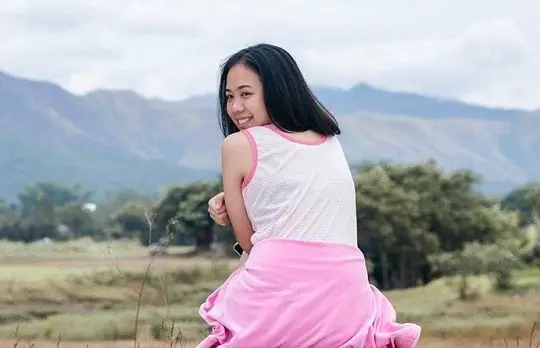 "I recommend AYM Goa Yoga School!! I had the most Amazing time there! You are basically at the beach! It's a blessing from heaven😊. The vegetarian diet is so good for you!! The instructors are so kind and energetic. They are all beautiful in their manner and will teach you something significant you can take with you for the rest of your life❤️💫. Just sign up for this wonderful adventure and learn so much about the yogic philosophy and yourself."
~ Ann Sui from China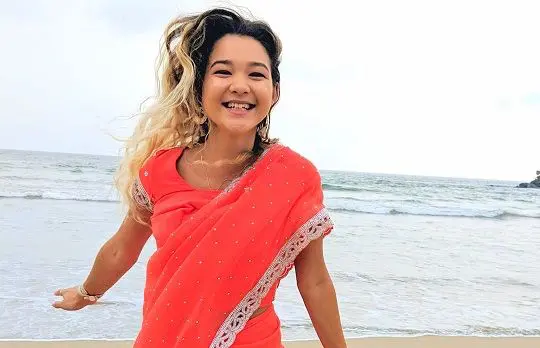 "Heaven on the earth! Yoga teacher training was captivating. It has all that I needed for perfect healing. Fantastic food, amazing and peaceful environment, excellent yoga and meditation sessions, fantastic music, and magical places to read a book. The staff of AYM Goa Yoga School made of unique material. It is truly a wonderland. Can not wait to come back. DONT HESITATE, JUST GO!"
~ Marie Martins